Welcome to Smiles For All Occasions
Smiles For All Occasions is Oklahoma's leading celebration company bringing unforgettable Smiles everywhere we go.  Making your life as easy as can be when it comes to celebrating. Using singing telegrams, character visits, yard displays and gift baskets to spread joy. helping the world see a little bit of God's Love. You get to give something grand and create a ton of happiness for all those involved. It could be a birthday, anniversary, birth announcement, wedding, retirement, adoption, Valentine's, graduation; the list is endless. Let us do all the work and you can make someone Smile TODAY!!
Singing Telegrams
Let us make them smile, laugh, and practically pee their pants!  Singing Telegrams are great for Birthdays, Valentine's Day, Father's Day, Anniversaries, Retirements or just any occasions you can think of! Available in Oklahoma! Message Us TODAY
Find Out More
Breakable Chocolates
Let us help you show that special someone that you love them! We can deliver or send a Breakable Chocolate Heart or other designs to that friend, neighbor teen, Mom, sister and the list is endless!  Call or Text Us today 405-408-9421
Take a look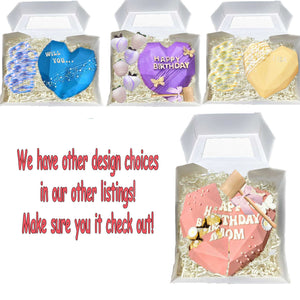 Making Smiles
We are helping you create smiles all over Oklahoma!! You also can be the best at giving gifts!